Four ways to bring the "Wow!" factor to the center of the plate
When it comes to the center of the plate, looks matter. Which is why in this Instagram-driven world, chefs are leveraging the built-in visual appeal of proteins to make their dishes truly stand out and increase their premium value. Showing off a nice char or beautiful caramelization is an expectation; add in a few modern approaches and not only will diners order, but also snap a photo and share with the rest of the world. At Union Kitchen & Tap Gaslamp, a New American restaurant in San Diego, Calif., its Pork Tomahawk is a showstopper, featuring an elegant long bone jutting out from its two-rib, belly-in center-cut chop. The pork is served with Hoppin' John risotto, black-eyed peas, tasso ham, braising greens, cracklings and apple compote. Rethink proteins with these four creative approaches—designed to give next-level status to your menu.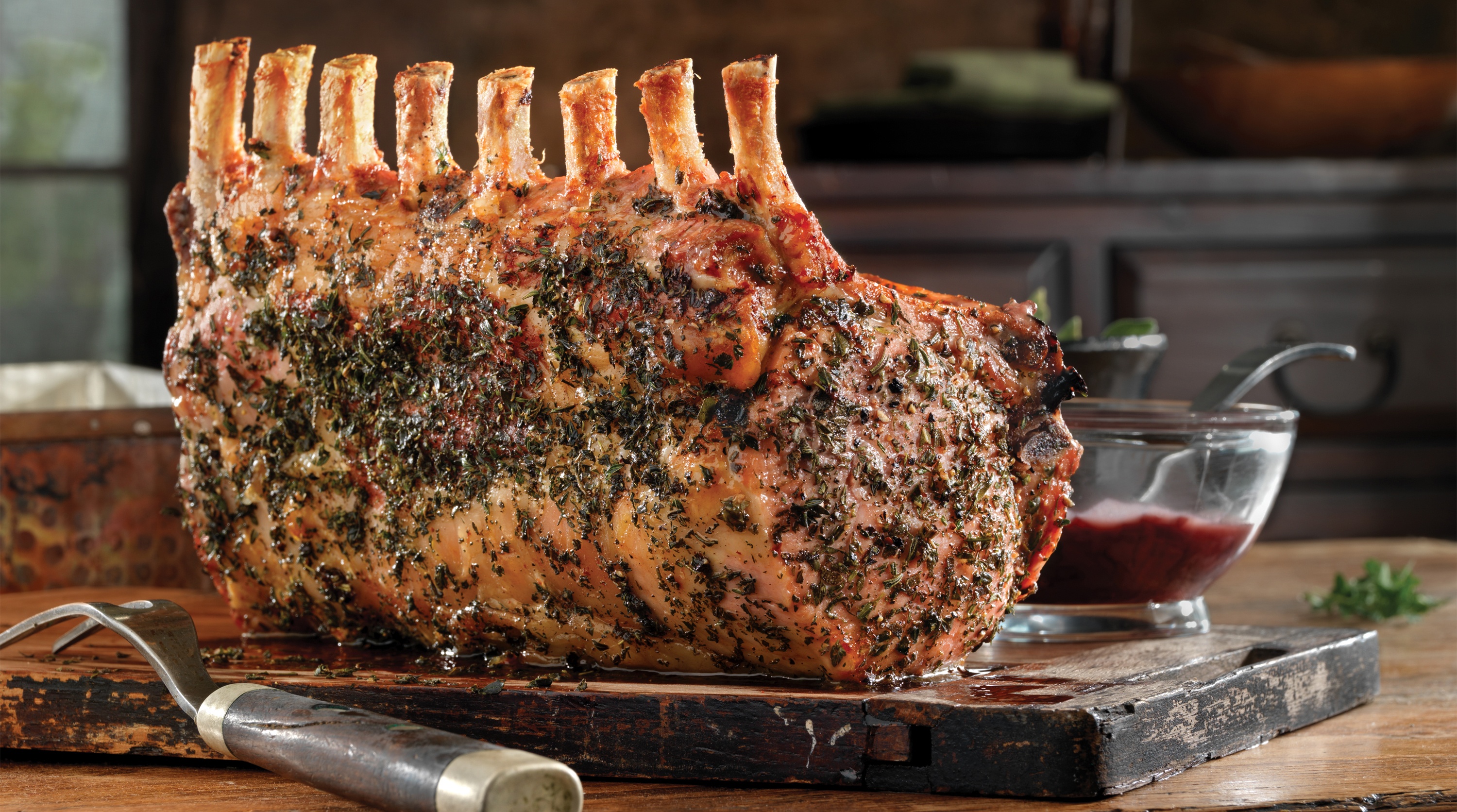 PHOTO CREDIT: Courtesy of National Pork Board and the Pork Checkoff. Des Moines, IA USA
Boning Up
Bone-in presentations make every cut photo ready.
Serve a sharing plate of a blackened eight-bone rib rack of pork on a chopping board, adding fresh herbs and roasted vegetables as accompaniments.
Carve a pork chop into slices, then place the meat up against the bone for dramatic effect, serving it family style.
Serve a pork shank standing up straight, garnishing it with a giant chicharron jutting upward.
Smoke 'Em
Smoke delivers drama and aroma to the table.
Serve a shareable crown of pork under a glass dome, burning rosemary to create a beautifully perfumed smoke.
Serve pork ribs under a silver dome filled with applewood smoke created with a smoking gun.
Go Thin
Pound out pork chops and char for good plate coverage.
Serve thin-cut pork chops with the bone in, serve with a trio of mustards.
Char pounded-out pork chops, then top with smoked clams.
Stuff It
Update classic French technique for modern menus. Nothing says comfort food like a rich, satisfying stuffing.
Make a dressing of pork sausage, then spoon it over a pork loin, roll and roast.
Slit a hole in a thick-cut pork chop and add za'atar-spiced stuffing.
By employing creative techniques to fan favorite dishes, modern entr├®es stand out with visually striking, mouthwatering presentations.